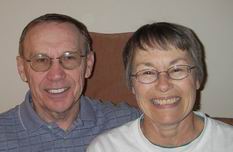 Hosted by StartLogic DickinsonAdventures.com
| | | | | | | | | | | | | | | |
| --- | --- | --- | --- | --- | --- | --- | --- | --- | --- | --- | --- | --- | --- | --- |
| Home | || | Family | || | Bicycling | || | Canoeing | || | Hiking | || | Scooter | || | Holidays | || | Misc |
<![if !supportEmptyParas]> <![endif]>
John and Pat's 2015
Lake Michigan Circle Tour
Introduction
This website contains information and pictures taken during John and Pat Dickinson's 2015 Lake Michigan Circle Tour on our Honda VTX-1300s Motorcycle. We started the 2000 mile trip on June 23rd and returned home on July 6, 2015.
Summary
In 2001 we circled half of Lake Michigan on bicycles starting out from Watertown Wisconsin and traveling up the West side of the lake through the Upper Penninsula (UP) of Michigan and down the East coast of the lake to Ludington, MI. At Ludington we took the ferry across the lake to Manitowoc, WI and then returned to Watertown.
The goal of this trip was to retrace some of the route we took in 2001 and complete the circle around the lake that we did not have time to do in 2001. Particularly, we were interested in spending some time exploring the sand dunes along the Southeast corner of the lake. Traveling by motorcycle allowed us to cover much more ground in much less time.
We left from our home in New Hope, MN and traveled basically straight East until we encountered the lake and turned North to retrace our route through the UP and down into Lower Michigan. Since we had seen the coast line of the Lake Michigan North of Ludington during our previous bicycle trip, we decided to travel along the West shore of Lake Huron from Mackinaw City to Au Gres, MI and then cut Westerly across the state to resume along the East shore of Lake Michigan.
As you can tell from the pictures we took, we spent a lot of time hiking and exploring the sand dunes and shore line at Warren Dunes State Park. When we got to the South end of the lake, we continued south to Battle Ground, IN to visit Pat's sister for a couple days. Since we had seen the shore line along the lake up to Chicago and on to Milwaukee, we decided to angle to the Northwest through Illinois to Rocford to visit my Aunt and then continue North to Watertown to visit the rest of Pat's family. We spent a couple days in Watertown and then returned home. We had a great trip!!!
Pictures
An assortment of the pictures that we took on our trip can be accessed by following this link.
Trip Diary
Pat put together a trip Diary. The Diary is organized by day and can be found by clicking here
Contact Information
If you wish to contact us you may do so using the contact information below. We enjoy answering any questions you may have about our trip. We also enjoy hearing about trips that you may have taken.
John and Pat Dickinson jrdpad@aol.com
Last revised: August 19, 2015