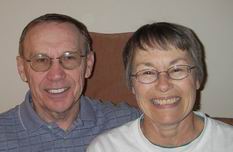 Hosted by StartLogic DickinsonAdventures.com
| | | | | | | | | | | | | | | |
| --- | --- | --- | --- | --- | --- | --- | --- | --- | --- | --- | --- | --- | --- | --- |
| Home | || | Family | || | Bicycling | || | Canoeing | || | Hiking | || | Scooter | || | Holidays | || | Misc |
<![if !supportEmptyParas]> <![endif]>
John and Pat's 2011
Lake Superior Circle Tour
Introduction
This website contains information and pictures taken during John and Pat Dickinson's 2011 Lake Superior Circle Tour on our scooters. We started the 2250 mile trip on August 4th and returned home on August 27, 2011. Below are a few statistics from our trip:
Duration: 24 Days

Traveling Days: 21

Total Miles: 2250

Camping Nights: 21

Motel Nights 3

Highest Milage Day: 220 Miles

Lowest Milage Day: 30 Miles
We decided to travel clockwise around the lake and leave mid week so we would have less competition for camping sites on the North Shore in Minnesota. Our departure date was also dictated by the reservations that we could get to make the boat trip from Grand Portage, MN to Isle Royale. I was originally thinking about making this trip by bicycle but the more we investigated, the more it became clear that there were many sections of the route that were not bicycle friendly so we decided to take the scooters. Taking the scooters significantly reduced the time that we would be away and significantly increased our ability to visit "off route" attractions.
Summary
Our timing for the trip was great. The weather was super and there were few if any bugs. We only encountered significant rain twice during the day. Each time we had already packed up and were on the road. Each time the storm was traveling in the opposite direction so we passed through it fairly quickly. The Canadians were complaing about the "hot" weather but after the stint of 90 degree days we had prior to the trip, I thought their 75-80 degree days were great.
This was a very leisurely trip by our standards. Once on the route, on average, we covered only about 80 route miles a day which would be less than two hours of riding. This left considerable time in the day for side trips to lighthouses, waterfalls, hiking, boat tours and observing the oddities in the small towns we passed by or through.
I was also very pleased with the fact that we had no significant mechanical problems with the scooters and little maintenance was needed. I changed the oil in both scooters after 1500 miles as usual and that was it. Things were going so well that we decided to take an overnight side trip to go to Drummand Island near DeTour, Michigan and camp on the shore of Lake Huron at DeTour State Forest.
As you can see from the pictures, the scenary was absolutely spectacular. It never gets tiring to see miles and miles of beautiful sand beaches, views of the lake and majestic sunsets. Pat had plenty of opportunities to explore the beaches for additions to her rock collection. Pat and I both greatly enjoyed our leisurely tour around Lake Superior.
Pictures Organized by Topic
An assortment of the pictures that we took on our trip are grouped in various topics. Use this link to access the Topic Menu. From the Topic Menu, thumbnails of each picture are provided to use as poke points to access an expanded view of that picture or the Slideshow Controls can be used as well. You can also use your browser's forward and back buttons to navigate through the pictures or return to this page.
Trip Diary
Pat put together a trip Diary. The Diary is organized by day and can be found by clicking here
Contact Information
If you wish to contact us you may do so using the contact information below. We enjoy answering any questions you may have about our trip. We also enjoy hearing about trips that you may have taken.
John and Pat Dickinson jrdpad@aol.com
Last revised: September 22, 2011