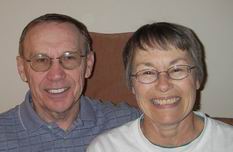 Hosted by StartLogic DickinsonAdventures.com
| | | | | | | | | | | | | | | |
| --- | --- | --- | --- | --- | --- | --- | --- | --- | --- | --- | --- | --- | --- | --- |
| Home | || | Family | || | Bicycling | || | Canoeing | || | Hiking | || | Scooter | || | Holidays | || | Misc |
<![if !supportEmptyParas]> <![endif]>
John and Pat's 2010
MN State Park Adventure
Introduction
This website contains information and pictures taken during John and Pat Dickinson's 2010 Minnesota State Park Adventure. Our goal was to visit all the State Parks in Minnesota during the summer of 2010 that are accessible by land (70). We traveled to the majority of the parks via our Scooters. We visited the parks in four Phases so we would not be away from home for an extended period. We were awarded a plaque from the State for completing our goal: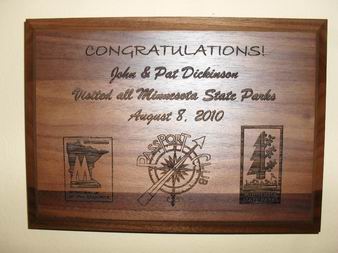 Summary
We stopped at each State Park to see what was there, do some hiking and exploring. We had camping and cooking equipment with us and it was our plan to camp every night that we were out but not to camp at each park. Some days we visited two or three parks in a day and camped in the last park of the day. There were a couple nights that after several contiuous days of rain, we treated ourselves to a motel for the night.
We visited the 70 State Parks in four phases traveling a total of 5494 miles, 4586 miles by scooter and 908 miles in our van:
Phase 1 was May 14th through May 26th. We visited 26 parks and traveled 1542 miles by scooter.
Phase 2 was June 12th through June 24. We visited 21 parks and traveled 1200 miles by scooter.
Phase 3 was July 11th through July 16th, We visited 8 parks and traveled 908 miles by van.
Phase 4 was August 1st through August 8th. We visited 15 parks and traveled 1844 miles by scooter.
Each park has its own special personality. Clearly, the parks along the North Shore are very popular and each has lots to offer with many hiking trails and beautiful waterfalls. Parks along the St. Croix and Mississippi Rivers provide great scenary and water sport opportunities. Parks in the South and Southwest have abundant hiking opportunities in meadow and prarie landscapes. The Iron Range parks provide the opportunity to go into underground and open pit mines. Zipple Bay, one of the most Northern Parks, has over two miles of beautiful sandy beach on the shore of Lake Of The Woods. Parks in the Northwest corner of the State are not as busy as those closer to the population centers but certainly are every bit as nice.
About one-half of the parks we had been to at some time or other over the many years we have been camping. We had a very enjoyable trip and it was great to have the opportunity to re-visit those parks and see the parks that we had not been to before.
Pictures Organized by State Park
Pictures that we took enroute to each Park and pictures taken at that Park are presented together. Use this link to access a grid to select each Park by name, State Park Grid. Use your browser's forward and back buttons or the links provided to navigate through the pictures or to return to this page.
Trip Diary
We had our Netbook computer with intergrated WiFi with us to keep a Diary of our travels and keep up with our email. We updated the Diary every couple of days during the trip. The Diary is organized by day and can be found by clicking here.
Contact Information
If you wish to contact us you may do so using the contact information below:
John and Pat Dickinson jrdpad@aol.com
Last revised: August 29, 2010