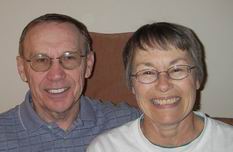 Hosted by StartLogic DickinsonAdventures.com
| | | | | | | | | | | | | | | |
| --- | --- | --- | --- | --- | --- | --- | --- | --- | --- | --- | --- | --- | --- | --- |
| Home | || | Family | || | Bicycling | || | Canoeing | || | Hiking | || | Scooter | || | Holidays | || | Misc |
<![if !supportEmptyParas]> <![endif]>
John and Pat's 2011
Duluth Bike Trip
Introduction
This website contains pictures taken during John and Pat Dickinson's 2011Bike Trip to Duluth Minnesota. We started the 378 mile trip on June 23th from home. Below are a few statistics from our trip:
Duration: 9 Days (June 23 through July 1, 2011)
Biking Days: 8
Total Miles: 378
Longest Biking Day: 64.0 Miles (June 28st)
Shortest Biking Day: 22 Miles (July 1st)
Flat Tires: NONE !!!
Broken Spokes: None
Crashes/Other: Minor Cassette maintenance on John's Bike
We had not made a bike trip for a while so we decided to take a few days and bicycle to Duluth Minnesota. We took 4 days to get to Duluth, laid over a day and then spent four days bicycling back home.
Summary
We took maximum advantage of the bicycle trails between the Twin Cities Metro area and Duluth. Close to 3/4ths of the miles traveled were on paved bicycle trails.
On our way to Duluth, we traveled through the Metro East from our house via the Victory Memorial Trail to the Mississippi River and then north along the river on the Mississippi River Regional Trail (MRRT) to I-694 where the trial crosses the river. We continued North on the East side of the River until we got to the Rice Creek Trail system. We continued East and North using the paved bicycle paths along major roadways such as 73rd Ave NE and 85th Ave NE until we got to Hugo, MN. At Hugo we got on the Hardwood Creek Trail and headed North. We spent the First Night in a motel in Forest Lake.
The Hardwood Creek Trail flowed into the Sunrise Prairie Trail getting us as far North as North Branch, MN. We rode on Forest Blvd which had a nice paved should from North Branch to Hinckley where we spent the second night. From Hinckley to Duluth we were on the paved Wilard Munger Trail.
We spent two nights in a motel in Canal Park at Duluth. The high point of course was watching the large ocean going ships come and go from the port. We decided we would travel through Wisconsin on our return trip.
From Duluth we crossed into Superior Wisconsin via the Bong Bridge (Hwy 2) and headed South on Highway 35 to Danbury, WI. We spent the night in Danbury. In Danbury, we picked up the Gandy Dancer Trail (crushed limestone) which got us as far South as St Croix Falls, WI and we stayed there for the night. We crossed back into Minnesota at St Croix Falls and traveled for a few miles on county roads until we connected with the Northeast Trailhead of the paved Gateway Trail. The Gateway trial took us into St Paul and we spent the night with our Daughter in St Paul. The following day, we biked home.
It was a very nice trip. The weather was good. The route was great and no major mechanical problems!!!
Pictures Organized by Topic
An assortment of the pictures that we took on our trip are grouped in various topics. Use this link to access the Topic Menu. From the Topic Menu, thumbnails of each picture are provided to use as poke points to access an expanded view of that picture. Use your browser's forward and back buttons to navigate through the pictures or use the Slideshow Controls provided.
Trip Diary
We carried a Netbook computer with intergrated WiFi. Each evening, Pat would type up a summary of the day's activities. The Diary is organized by day and can be found by clicking
here.
Contact Information
If you wish to contact us you may do so using the contact information below. We enjoy answering any questions you may have about our trip. We also enjoy hearing about trips that you may have taken.
John and Pat Dickinson jrdpad@aol.com
Last revised: September 4, 2011