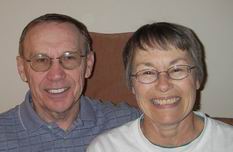 Hosted by StartLogic DickinsonAdventures.com
| | | | | | | | | | | | | | | |
| --- | --- | --- | --- | --- | --- | --- | --- | --- | --- | --- | --- | --- | --- | --- |
| Home | || | Family | || | Bicycling | || | Canoeing | || | Hiking | || | Scooter | || | Holidays | || | Misc |
<![if !supportEmptyParas]> <![endif]>
John and Pat's 2014
Hawaii Trip
Introduction
This website contains information and pictures taken during John and Pat Dickinson's 2014 Hawaii Trip. We left Minneapolis on May 12th and returned home on May 31st.
Summary
After putting Pat off for years, she finally wore me down and 2014 was the year that we made a trip to Hawaii. I said we could go but there were 3 conditions:
Pat agreed to item one. Item two meant that we would have to go to Oahu and item three meant that we would have to go to the Big Island. Other than the two places I required, I said we would go and do what ever Pat wanted and stay as long as she wanted.
Pat went ahead and planned a great vacation for us. We flew into Oahu and stayed there about a week visiting Pearl Harbor, Botanical gardens, hanging out at the beach, sighseeing and snorkeling. We then flew to the Big Island and stayed there for about two weeks, doing the same. On our first day at each island, we took a full day island bus tour to get the "lay of the land" and then used our rental cars to go back to places that looked interesting from the bus tours and explored other areas. On the Big Island we even rented a couple motorcycles and did some sight seeing on a Suzuki and big Harley Road King.
We both had a great time and it was a super trip. Pat did an excellant job in making all our arrangements and finding interesting places for us to visit. I was a little disappointed that I did not get to have a close encounter with molten lava because of recent policy changes by Hawaiian authorities but we did get to see the night glow of molton lava from a distance and smell the sulfur.
Pictures Organized by Topic
An assortment of the pictures that we took on our trip are grouped in various topics. Use this link to access the Topic Menu. From the Topic Menu, thumbnails of each picture are provided to use as poke points to access an expanded view of that picture or the Slideshow Controls can be used as well. You can also use your browser's forward and back buttons to navigate through the pictures or return to this page. ;
Trip Diary
Pat put together a trip Diary. The Diary is organized by day and can be found by clicking here
Contact Information
If you wish to contact us you may do so using the contact information below. We enjoy answering any questions you may have about our trip. We also enjoy hearing about trips that you may have taken.
John and Pat Dickinson jrdpad@aol.com
Last revised: November 20, 2014