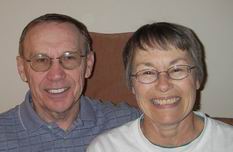 Hosted by StartLogic DickinsonAdventures.com
| | | | | | | | | | | | | | | |
| --- | --- | --- | --- | --- | --- | --- | --- | --- | --- | --- | --- | --- | --- | --- |
| Home | || | Family | || | Bicycling | || | Canoeing | || | Hiking | || | Scooter | || | Holidays | || | Misc |
<![if !supportEmptyParas]> <![endif]>
John and Pat's 2007
Bike Trip Adventure
Introduction
This website contains pictures taken during John and Pat Dickinsonís 2007 Bike Trip. We started the 1330 mile trip on June 27, 2007 from our home in New Hope, MN and traveled to Lafayette, Indiana to visit Patís relatives and returned home on July 28, 2007. Below are a few statistics from our trip:
Duration: 32 Days (June 27 through July 28, 2007)
Biking Days: 27
Total Miles: 1330
Non Camping Nights: 10 (Motel, Friends or Family)
Longest Biking Day: 62.0 Miles (July 26th)
Longest Biking Time: 6 Hr and 31 Min (Jul 2nd)
Shortest Biking Day: 33 Miles (Jul 11th)
Shortest Biking Time: 3 Hr and 19 Min (Jul 11th)
Highest Daily Ave: 10.8 MPH (Jul 9, 10 and 21st)
Lowest Daily Ave: 7.3 MPH (Jul 2nd)
Flat Tires: Pat 1, John 2, Trailer 2
Broken Spokes: None
Crashes: None
It had been some time since we visited Patís sister Mary Jo and her husband Michael in Lafayette, Indiana so we decided to take a bicycle trip to visit them.
Our route took us south out of Minneapolis along the west side of the Mississippi River to Muscatine, Iowa. At Muscatine, we turned basically due east crossing central Illinois and into western Indiana to Lafayette. When we left Lafayette, we traveled north up to Lake Michigan, through Chicago along the Lake and into Milwaukee. At the South Shore Yacht Club in Milwaukee, we turned west to Watertown, WI. From Watertown, we traveled northwest to Portage and then westerly along the west/south side of the Wisconsin River and branched away from the river to go to Reedsburg, WI. From Reedsburg, we took a series of bike trails to the La Crosse, WI area. From La Crosse we traveled north along the east side of the Mississippi river and crossed into Minnesota at Red Wing and then northwest into the metro area to get home.
Summary
The Lafayette to Watertown portion of the trip was by far Pat and my favorite part of the trip for many reasons, the first of which was that Patís brother Gregís wife Sandy biked with us from Lafayette to Watertown. We greatly enjoyed Sandyís company. We also were very impressed with the bike trails in and around the Chicago area and really enjoyed our sight seeing in the Chicago area.
In retrospect, this trip did not have the glamour of some of our other bicycle trips. This was after all, a trip through the Heartland of the USA and it needs to be recognized as such. We saw the small towns and the large cities. We had great views along the Mississippi River and Lake Michigan. We saw lots of corn and soybeans! We continue to be impressed by the friendliness of the people we meet on our trips.
All things considered, good weather, interesting route, interesting scenery and excellent companionship made this a great trip!
Pictures Organized by Topic
An assortment of the pictures that we took on our trip are grouped in various topics. Use this link to access the Topic Menu. From the Topic Menu, thumbnails of each picture are provided to use as poke points to access an expanded view of that picture. Use your browserís forward and back buttons to navigate through the pictures and return to this page.
Trip Diary and Updates
We carried a Compact iPAQ 3765 handheld computer with a foldable keyboard and solar recharger. Each evening, Pat would type up a summary of the dayís activities. The Diary is organized by day and can be found by clicking here.
During the trip we had several updates sent out via email. The Trip Updates can be accessed by clicking here.
Contact Information
If you wish to contact us you may do so using the contact information below. We enjoy answering any questions you may have about our trip. We also enjoy hearing about trips that you may have taken.
John and Pat Dickinson jrdpad@aol.com
Last revised: September 9, 2007