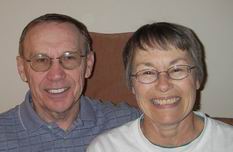 Hosted by StartLogic DickinsonAdventures.com
| | | | | | | | | | | | | | | |
| --- | --- | --- | --- | --- | --- | --- | --- | --- | --- | --- | --- | --- | --- | --- |
| Home | || | Family | || | Bicycling | || | Canoeing | || | Hiking | || | Scooter | || | Holidays | || | Misc |
<![if !supportEmptyParas]> <![endif]>
John and Pat's 2009
Scooter Trip Adventure
Introduction
This website contains information and pictures taken during John and Pat Dickinson's 2009 East Coast Scooter Trip. We started the 9465 mile trip on April 18th and returned home on June 14, 2009. Below are a few statistics from our trip:
Duration: 58 Days

Traveling Days: 48

Total Miles: 9465

Camping Nights: 15

Nights with Family or Friends 24

Motel Nights 19

Highest Milage Day: 346 Miles

Lowest Milage Day: 40 Miles

US States Visited 24

Canadian Provinces Visited 2
We followed the general route as we originally planned that was to travel South from Minneapolis to hit the Florida pan handle. We then turned East traveling down the West coast of Florida making our way as far South as Key West. At Key West, we turned back North and followed the East Coast of the US all the way through New England and into New Brunswick Canada and as far North and East as we could go in Nova Scotia, Canada. At that point, we headed South to the Eastern shore of Nova Scotia and West to Halifax and then headed back West into the US cutting across the New England states and followed along the Southern shores of the Great Lakes to Lake Michigan where we turned North and then Northwest and headed back to Minneapolis.
Summary
One of the major goals of this trip was to visit friends and relatives along the way. We stopped and visited with 21 different families over our route. Some we spent a few hours with and others we spent a few days with. It was super to have the opportunity to renew old friendships and in the case of some of Pat's relatives, it was the first time I met them and the same was true for Pat with some of my relatives. It was great to get to spend some time with former clients and coworkers, some of whom, I had not seen for over 20 years.
This trip was considerably different than all of our previous trips in that it required very little physical activity. On the days we were traveling, we would be riding for several hours during the day but have numerous "rest stops" and not be expending much energy just sitting on the scooter letting it do all the work. In fact, this is the only trip in recent memory that I have been on where I weighed more when I returned than I did when I started. Go figure.....! It was also very different in that we did not take nearly as many "scenic" pictures during our travel as we routinely have done in the past, mainly because we were traveling so fast that by the time you would see something you may want to take a picture of, we were already past it or could not stop because of traffic. (We rarely had that problem hiking, paddling or bicycling).
I was also very pleasantly surprised at how reliable our CFMoto Fashion 250 scooters were. We had only one major mechanical problem on the road with the rear wheel bearing going out on Pat's scooter that delayed us for two days in Ellsworth, Maine while new parts were express mailed to our location. After I installed the parts, we were on our way. Very surprising to me, the replacement bearing also failed during the last day of our trip but we were able to "limp" the last 100 miles back home. When the first bearing went out on Pat's scooter, at the first convenient time, I had mine checked and it needed to be replaced as well. We want to send a special Thank You out to Loren and Josh Broady of Windham Marine and Powersports in Windham, NH for their assistance in getting the tire and bearing changed on my scooter so we were back on the road in a couple hours. THANK YOU VERY MUCH!!! We had a few minor issues with "chattering" cluthes that I could take care of and of course I changed the oil every 1500 miles in each scooter. All in all, I was exceptionally pleased with the scooters' reliability and performance. We also need to acknowledge the help and behind the scenes assistance we got while on our trip from our local CFMoto dealer Marty at GoMoto of Minnesota in Osseo, MN. Thanks Marty!!!
We both greatly enjoyed this mode of travel. Except for the first couple days, the weather did not present any major impact to our travel plans. The high point for me during this trip was opportunity to visit with our friends and relatives along the way. We saw some great scenary and had a good time in Canada.
Pictures Organized by Topic
An assortment of the pictures that we took on our trip are grouped in various topics. Use this link to access the Topic Menu. From the Topic Menu, thumbnails of each picture are provided to use as poke points to access an expanded view of that picture. Use your browser's forward and back buttons to navigate through the pictures and return to this page.
Trip Diary
We carried a Palm T/X handheld computer with intergrated WiFi, and a foldable keyboard. I wired Pat's scooter so we could recharge our electronics on the road as needed. Each evening, Pat would type up a summary of the day's activities. The Diary is organized by day and can be found by clicking here
Contact Information
If you wish to contact us you may do so using the contact information below. We enjoy answering any questions you may have about our trip. We also enjoy hearing about trips that you may have taken.
John and Pat Dickinson jrdpad@aol.com
Last revised: July 17, 2009