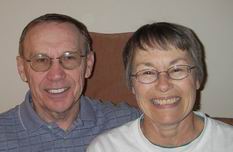 Hosted by StartLogic DickinsonAdventures.com
| | | | | | | | | | | | | | | |
| --- | --- | --- | --- | --- | --- | --- | --- | --- | --- | --- | --- | --- | --- | --- |
| Home | || | Family | || | Bicycling | || | Canoeing | || | Hiking | || | Scooter | || | Holidays | || | Misc |
<![if !supportEmptyParas]> <![endif]>
John and Pat's 2016
Alaska Trip
Introduction
This website contains information and pictures taken during John and Pat Dickinson's 2016 Alaska Trip. We left Minneapolis on June 1st and returned home on July 24th.
Summary
The major citieis we visited were: Anchorage, Talkeetna, Denali, Fairbanks, North Pole, Chena Hot Springs, Chitina, Kennicott, Valdez, Whittier, Seward, Homer, Soldotna, Barrow, Juneau, Skagway, Gustavus, Wrangell and Ketchikan. We stopped in many other cities for gas, meals, etc. and attractions along the way. This was our first trip to Alaska and we wanted to make the most of it. Pat's brother Greg and his wife Sandy accompanied us for the first three weeks. While they were with us, we rented a 25 foot Mini Winnie RV and traveled over 2000 miles around the South Central part of the state.
We also got to spend some time with Sandy's sister Monique and her husband Greg and Sandy's Uncle Gary and Aunt Julie.
We used almost every mode of transportation available: Commercial Jets, Commercial Prop Planes, Bush Planes, Float Plane, RV, Trains, River Boat, Tour Boat, Ferry Boat, Bicycle, Car, Zipline, Kayak, Taxi Cab, Tour Buses, Shuttle Buses, Fishing Boats, ATV, Tramway and walking. Unfortunately, we could not work in any motorcycles.
We were very impressed with the beauty, ruggedness and enormity of the state. We went as far North as we could go to the Artic Ocean at Barrow and as far South as Ketchikan. We experienced kayaking at sea level and hiking on glaciers at altitude. We saw big cities and small and areas that could only be accessed by float plane or train. Our only regret was we did not have enough time to see the Aleutian Islands.
Pictures Organized by Topic
We took over 3000 pictures on our trip. An assortment of the pictures that we took are grouped in various topics. Use this link to access the Topic Menu. From the Topic Menu, select a topic of interest and you will be presented with a brief narrative. Thumbnails of each picture are provided to use as poke points to access an expanded view of that picture or the Slideshow Controls on the bottom of the page can be used as well. You can also use your browser's forward and back buttons to navigate through the pictures or return to the Topic Menu page.
Trip Diary
This is one of the few trips that we did not keep a detailed trip diary. We did however keep a daily trip blog. The blog can be accessed by clicking here.
Contact Information
If you wish to contact us you may do so using the contact information below. We enjoy answering any questions you may have about our trip. We also enjoy hearing about trips that you may have taken.
John and Pat Dickinson jrdpad@aol.com
Last revised: February 9, 2017