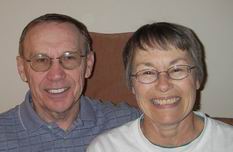 Hosted by StartLogic DickinsonAdventures.com
| | | | | | | | | | | | | | | |
| --- | --- | --- | --- | --- | --- | --- | --- | --- | --- | --- | --- | --- | --- | --- |
| Home | || | Family | || | Bicycling | || | Canoeing | || | Hiking | || | Scooter | || | Holidays | || | Misc |
<![if !supportEmptyParas]> <![endif]>
John and Pat's 2012
West Coast Scooter Trip
Introduction
This website contains information and pictures taken during John and Pat Dickinson's 2012 West Coast Scooter Trip. We started the 7958 mile trip on May 26th and returned home on August 1st, 2012. Below are a few statistics from our trip:
Duration: 68 Days

Traveling Days: 53

Total Miles: 7958

Camping Nights: 44

Nights with Family or Friends 12

Motel Nights 15

Highest Milage Day: 230 Miles

Lowest Milage Day: 53 Miles

US States Visited 16

Canadian Provences Visited 1

Highest Elevation 10,528 feet (Carson National Forest in New Mexico)

Lowest Elevation -225 feet (Death Valley, CA)
We were originally going to do a counter clockwise trip starting in the Northern states, heading to the West coast and returning through the Southern states, however, we would have had to delay our start date so the weather was warmer in the North and we wanted to go through Death Valley and the delayed start would have meant much hotter temperatures by the time we got to Death Valley. So, we decided to begin by heading Southwest through the plains and getting to Death Valley before it got too hot and return in mid summer through the Nothern states when it would be warmer there. Our route took us from Minnesota through Iowa, Nebraska, Kansas, Colorado, New Mexico, Arizona, Utah, Nevada, California, Oregon, Wasington, Vancouver Island Canada, back to Washington, Idaho, Montana, Wyoming, South Dakota and back to Minnesota.
Summary
We had 7 goals for this trip. They were: 1) Visit the North Rim of the Grand Canyon as we had seen the South Rim several times before but had never been to the North Rim. 2) Visit Death Valley since we had not been there before and had to pass it up on a couple other trips we had in the West. 3) Visit my cousin Pat Burton and her husband Allen in Eugene, OR. 4) Visit my sister Ellie in Kiezer, Oregon. 5) Visit Pat's neice Michelle in Seattle, WA. 6) Visit Victoria Vancouver Canada and Butchart Gardens near Victoria that we had heard so much about and 7) Visit as many National Parks, National Monuments and National Historical Sites, Grasslands, etc that we could along the way.
We experienced a wide range of weather conditions during the trip. We encountered severe electrical and hail storms in the Kansas plains, severe wind in the grasslands of Colorado (50+ mph), severe heat in Death Valley (115+ degrees) and cold weather and snow blocked roads in the high elevations in and around Crater Lake, OR and Mt St Helen, WA and almost zero visibility because of fog and rain at the Visitor Center at Mt Rainier, WA. We were also re-routed because of road closures from snow and wildfires.
We visited a total of 23 National Parks, Monuments, Historical sites, etc. These ranged from the more recognized places such as the Grand Canyon, Death Valley, Crater Lake, Mt Rainier and Devil's Tower to the lesser known places such as Fort Larned National Historical Site in Kansas, Capulin Volcano National Monument in New Mexico, Aztec Ruins in New Mexico, Manzanar National Historic Site (Japanese Internment Camp) in Lone Pine, California and Newberry Volcanic National Monument near Bend,OR.
We visited: with relatives and friends (6), beautiful gardens (2), aquariums (2), museums (2), a hospital emergency room (for Pat), the Space Needle, a Mammoth dig site, a Hydro Electric Plant on the Columbia River, the Grand Coulee Dam, a zoo, a missle silo, Jewel Cave, an Air Force Base, the most Northwestern spot in the lower 48 states, the lowest point in North America, the deepest lake in the USA and the wettest place in the lower 48 states. We stood in 4 states at one time, swam in a pool fed by a hot spring, took our scooters on a couple ferries, traveled along the Lewis and Clark Trail, had a soda at Wall Drug, had some of the world famous beef jerky in Bishop, CA, was served sushi on a conveyer belt, crawled around in lava tubes, hiked down into volcano craters, looked for aliens in Area 51, climbed 100 foot sand dunes and saw bear, deer, bison, elk, antelop, eagles, pelicans, sea otter, seals and sandhill cranes. We saw the Pacific Ocean, the Juan Defuca Straits, many beautiful waterfalls, mountains, high plains, hugh lakes, plateaus, major rivers, mighty canyons, rolling farm land, deserts, the Badlands and many more unusual and interesting sites. All in all, it was a great trip!!!
Pictures Organized by Topic
An assortment of the pictures that we took on our trip are grouped in various topics. Use this link to access the Topic Menu. From the Topic Menu, thumbnails of each picture are provided to use as poke points to access an expanded view of that picture or the Slideshow Controls can be used as well. You can also use your browser's forward and back buttons to navigate through the pictures or return to this page. ;
Trip Diary
Pat put together a trip Diary. The Diary is organized by day and can be found by clicking here
Contact Information
If you wish to contact us you may do so using the contact information below. We enjoy answering any questions you may have about our trip. We also enjoy hearing about trips that you may have taken.
John and Pat Dickinson jrdpad@aol.com
Last revised: November 7, 2012