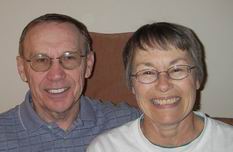 Hosted by StartLogic DickinsonAdventures.com
| | | | | | | | | | | | | | | |
| --- | --- | --- | --- | --- | --- | --- | --- | --- | --- | --- | --- | --- | --- | --- |
| Home | || | Family | || | Bicycling | || | Canoeing | || | Hiking | || | Scooter | || | Holidays | || | Misc |
<![if !supportEmptyParas]> <![endif]>
John and Pat's 2008
Bike Trip Adventure
Introduction
This website contains pictures taken during John and Pat Dickinson's 2008 Bike Trip in central Minnesota. We started the 300 mile trip on July 20th at 2 PM in Baxter, MN. Below are a few statistics from our trip:
Duration: 6 Days (July 20 through July 25, 2008)
Biking Days: 6
Total Miles: 300
Non Camping Nights: 1 (Bed and Breakfast)
Longest Biking Day: 74.0 Miles (July 21st)
Longest Biking Time: 7 Hr and 32 Min (Jul 21st)
Shortest Biking Day: 25 Miles (Jul 22nd)
Shortest Biking Time: ? Hr and ?? Min (Jul 22nd)
Highest Daily Ave: 10.8 MPH (Jul 25th)
Lowest Daily Ave: 9.2 MPH (Jul 24th)
Flat Tires: NONE !!!
Broken Spokes: None
Crashes/Other: Minor Cassette maintenance on John's Bike
We wanted to make at least one short bike trip this year as we are conserving funds for our long East Coast Bike trip next year. We had not been on the Paul Bunyan or Heartland Trails in central Minnesota so we decided to combine both trails in one trip. It also gave us the opportunity to visit Lorraine Dunlop who I had worked with for some 20 years and when she retired, she moved to Baxter, MN. I had not seen Lorraine for about 6 years and it was great to have lunch with her and get caught up on old times before we started our trip.
Summary
The Paul Bunyan and Heartland trails bisect each other at about their mid points near Walker Minnesota. The Paul Bunyan Trail runs from Baxter, MN North to Walker, MN and then Northwest to Lake Bemidji State Park. The Heartland Trail runs from Park Rapids, MN East to Walker and then North to Cass Lake, MN. An overview of the trails can be seen at this link. Overview (Use your browsers "Back Button" to return to this page).
We parked our van at the Baxter Trailhead and started bicycling from there. We went North on the Paul Bunyan trail until it intersected the Heartland trail. At that point, we went West on the Heartland Trail to its Western terminus at Park Rapids. At Park Rapids, we turned around and retraced out route back to the intersection of the trails and continued Easterly to Walker and then North on the Heartland Trail to Cass Lake. From Cass Lake, we took county roads to the Northwest to get to Bemidji and then traveled on the Northern paved portion of the Paul Bunyan Trail to Lake Bemidji State Park. We left the State Park and returned South to Bemidji to continue South on the Paul Bunyan Trail. The section of the Paul Bunyan trail south of Bemidji to a couple miles North of Walker is not paved and in very poor condition. We traveled a couple miles on the unpaved portion South of Bemidji and then abandoned the trail for smoother county roads to get back to Walker. From Walker, we retraced our path back to Baxter on the paved Paul Bunyan Trail.
We stayed for the first time ever in a B&B in Nevis, MN. Pat loved it! It was a very nice place with a great breakfast. (For more details, check out July 21 and 22 in the Trip Diary, follow the link below.) It was very interesting traveling through the small towns on the trails. Each had their own unique personality. As always, people we met along the way were very friendly and curious about our bicycle trailer and why we would want to do what we were doing.....
The deer flies were somewhat annoying from time to time and the unpaved section of the Paul Bunyan Trail was disappointing but all-in-all, the weather was good, no flat tires or significant mechanical issues, the companionship was super and it was a great trip!
Pictures Organized by Topic
An assortment of the pictures that we took on our trip are grouped in various topics. Use this link to access the Topic Menu. From the Topic Menu, thumbnails of each picture are provided to use as poke points to access an expanded view of that picture. Use your browser's forward and back buttons to navigate through the pictures and return to this page.
Trip Diary
We carried a Palm T/X handheld computer with intergrated WiFi, a foldable keyboard and solar panel recharger. Each evening, Pat would type up a summary of the day's activities. The Diary is organized by day and can be found by clicking
here.
Contact Information
If you wish to contact us you may do so using the contact information below. We enjoy answering any questions you may have about our trip. We also enjoy hearing about trips that you may have taken.
John and Pat Dickinson jrdpad@aol.com
Last revised: September 11, 2008